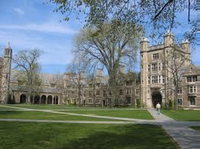 I was the fifteenth dean of the University of Michigan Law School.
During my deanship, the Law School made important innovations in public service, the teaching of professional skills, and transnational law. During my deanship the Law School also successfully completed a $92 million fundraising campaign
In a case ultimately decided by the Supreme Court, Grutter v. Bollinger, the  Law School also successfully defended its efforts to enroll a racially integrated student body.  The NAACP Legal Defense and Educational Fund recognized the Law School's contribution to the cause of integration in America by granting me its National Equal Justice Award.  
Michigan is where I began my academic career, concentrating my research attention on taxation and America's response to poverty.  I served as a member of the tenured faculty of both the Law School and the Gerald R. Ford School of Public Policy.